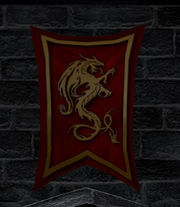 Darkbloods are fanatics who whorship Bane and Agony. The Darkblood have brought disharmony to the land. They preach that chaos is the original nothingness, without form and void, from which everything appeared. They intend to return the earth to that dark abyss. They treat all non-believers as enemies to be punished or enslaved and their presence threatens the kingdom and decays the land. They are easily distinguished by their blue helms and other pieces of armor. As you move on to the story line, you will be given quests to fight them, many of which are hard to complete.
Pages in category "Darkblood"
The following 14 pages are in this category, out of 14 total.