The Dark Angels is a team whitin sherwood.
The team is made to help te people en clans of Sherwood.

anyone whit a good heart en wants to help can join the team.
If you whant to join go to chatroom 76 Emarald Server thats ower base an ask someone of the team if you can join.
(We are sharing the base whit EWR so respect them)
FDR's Of DA are TheDeadMy AKA ×HeartFire× en wilwilwil AKA ((Lord Wil))
(if you don't respect the FDR's other people of the team or people of EWR you whill not come in!!! )
Do you whant to know what the team is doing all in SWD?
here is the teams site www.Da-swd.weebly.com

(If clan's or people whant ower help pls post in Da guestbook)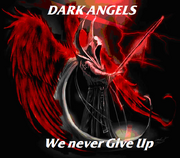 Ad blocker interference detected!
Wikia is a free-to-use site that makes money from advertising. We have a modified experience for viewers using ad blockers

Wikia is not accessible if you've made further modifications. Remove the custom ad blocker rule(s) and the page will load as expected.