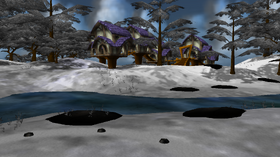 Frost Bite is an island situated in the cold seas of the far North. It can be accessed through entering the teleportation ring in Sherwood Castle or by simply typing in the slash command /teleport 3. Storyline-wise, it is the first island to be encountered containing dragons.
Frost Bite, although considered a single island, is formed by two islands: the main island, containing the village, and a nearby small one, containing the portal. The islands are separated by small strait.
The main island is governed by Mayor Bones, an undead skeleton who will present the player with two of the Prophecy of Bane quests.
In old versions of Sherwood Dungeon, Frost Bite had a level recommendation of 30 or higher as it contained mobs with fixed levels.
Ad blocker interference detected!
Wikia is a free-to-use site that makes money from advertising. We have a modified experience for viewers using ad blockers

Wikia is not accessible if you've made further modifications. Remove the custom ad blocker rule(s) and the page will load as expected.