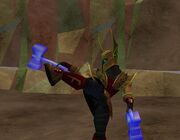 The Round Kick is a power move, earned when a player reaches level 3. It was the first power move, along with the Lounging Double Strike and the Spinning Hook Kick, to be added in Sherwood Dungeon version 1.5i. Even though it is the first power move to be learned, the Round Kick is a fast attack. It is very easy to time and is good for using in combination attacks.
In earlier versions
Edit
The Round Kick existed even earlier than Sherwood Dungeon version 1.5i. Before power moves appeared, the round kick was a normal hit, appearing randomly amongst the other moves triggered by pressing CTRL. Since it was a normal attack, most monsters back then used this move also. In these previous versions, the round kick was only as powerful as any normal attack.
Ad blocker interference detected!
Wikia is a free-to-use site that makes money from advertising. We have a modified experience for viewers using ad blockers

Wikia is not accessible if you've made further modifications. Remove the custom ad blocker rule(s) and the page will load as expected.