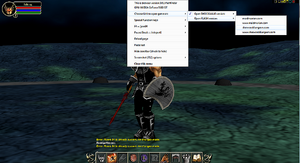 Sherwood Browser, codenamed as Pathfinder, is an unofficial program which allows Sherwood Dungeon to be played from the player's desktop instead of browser. It also has various features and shortcuts.
The latest version is 5.1.6[1] and it can be downloaded by clicking here.
F2 - hard space.
F3 - ALT codes menu.
F4 - join a room previously programmed in the F5 menu.
F5 - show the player's GPU and several settings.
F7 - open the Room Designer.
F8 - game commands.
F11 - toggle top right corner buttons on or off.
F12 - take a screenshot.
References
Edit
Ad blocker interference detected!
Wikia is a free-to-use site that makes money from advertising. We have a modified experience for viewers using ad blockers

Wikia is not accessible if you've made further modifications. Remove the custom ad blocker rule(s) and the page will load as expected.