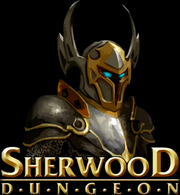 Sherwood Dungeon for mobile, also known as Sherwood Mobile, is an adaptation of the PC version to the iOS and Android. It is still in development and will be available for smartphones and tablets[1].
Description
Edit
It seems to have the exact same gameplay as the PC version, except it was adapted to touchscreens with on-screen controls. It uses the same servers, thus making it possible for a PC user to play with a mobile one.
It is unknown if there will be any exclusive features.
If you are reading this, then you are probably using a mobile phone. View this page on a computer to see the embedded video.
References
Edit
Ad blocker interference detected!
Wikia is a free-to-use site that makes money from advertising. We have a modified experience for viewers using ad blockers

Wikia is not accessible if you've made further modifications. Remove the custom ad blocker rule(s) and the page will load as expected.