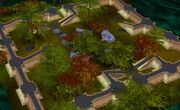 Sherwood Dungeon v2.2 was a large scale update to Sherwood Dungeon and was a follow-up to version 2.1. This version was released with a new teleport titled The Fortress of Fury and a variety of new weapons and quests. Currently, Sherwood is on version 2.6[1].
Changelog
Edit
Bow and Arrows added to Alpha.
Battle Zone games have been extended to 10 minutes.
Normal Healing in Battle Zone.
Last island is stored.
Paladin Minion was added.
Teleport 10 - The Fortress of Fury added.
Additional quest line added.
Dungeon levels reworked.
Additional hair styles added.
Pets: Huntress and Lycan added.
Enemies: Rogue Huntress, Werewolf, Black Unicorn, and Lycan added.
Weapons: Lycan's Bane Silver Axe and Mindfire Sword of Chaos released.
Half Moon Shield added.
Friends list expanded.
Redesigned level up window.
Additional blacksmith, rune merchant, and scroll merchant added.
Slash command to block pop ups added.
Players who are online will be highlighted on your friends list.
Darkblood Bandits reworked.
Hair color and styles added to the male human class.
Health bars are now color coded.
Multiple pets can be used at once.
A hotkeys function was added.
Warhorse pet was added.
The ignore function was strengthened.
References
Edit
Ad blocker interference detected!
Wikia is a free-to-use site that makes money from advertising. We have a modified experience for viewers using ad blockers

Wikia is not accessible if you've made further modifications. Remove the custom ad blocker rule(s) and the page will load as expected.