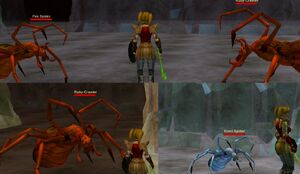 Spiders are a type of enemy found in almost every location in Sherwood Dungeon. They were the first non-human enemy in the game, existing since the very first version. They are also among the first enemies seen upon login, since the forest around the Sherwood Castle is surrounded by Venom Critters and Forest Tarantulas, among other things.
Known individuals
Edit
Spiders can be bought as pets, for $5. They can fight alongside the player, or be transformed into.
Ad blocker interference detected!
Wikia is a free-to-use site that makes money from advertising. We have a modified experience for viewers using ad blockers

Wikia is not accessible if you've made further modifications. Remove the custom ad blocker rule(s) and the page will load as expected.